Introduction

News Reporting podium




LGT-P700
1、Combined with plastic /wood/cold steel, three kinds of material, on the table body frame using ABS engineering
plastics, around the push and pull plate is made of high density board, tempered spray paint, table body with
1.2-1.5MM cold rolled steel sheet
2, humanized design, the desktop board using push and pull type, can expand the IC card system with
electronic lock, card lock
3, according to the mechanical design of the human body, the desktop adopts inclined design,
convenient placement of speech, the desktop with non slip strip, you can place the notebook computer
4, equipped with electric lifting device, electric lift 19 inch widescreen LCD display, expandable IC card system.
5, table body with standard cabinet size design, all equipment neatly arranged

6, on the right side with a table body drawer, conveniently placed items, cup
7, the table outside with the standard notebook interface module and power module, convenient connection
control of notebook computer
8, product size: long 86* wide 75* high 117CM
9 ,Items list as follows: a high-grade mute electric hoist; gooseneck microphone; notebook interface module;
a cooling fan; power supply row in (8 three socket) a; a piece of tempered glass;
two partitions; a storage drawer ; one set packed in wooden cases.
description
1, the upper steel, wood, ABS injection of three materials, the installation of 19 inch widescreen display, lower standard cabinetdesign
2、The top and bottom are respectively provided with a heat radiating hole, and the LOGO space is left.
3、Left face with a cooling fan, accelerated cooling, extend the cabinet within the service life of the equipment, standard notebook interface module, convenient connection for laptop. Cold air enters the hole at the bottom.
4、IC card reader installed on the right side, the lower open air into the hole.
5、Speach podium with electric lift, convenient display with ease. The lower layer for the standard cabinet design, with two partitions, to facilitate the equipment to visit. The bottom with four universal movable wheels, convenient to move the table in a small range, saving space.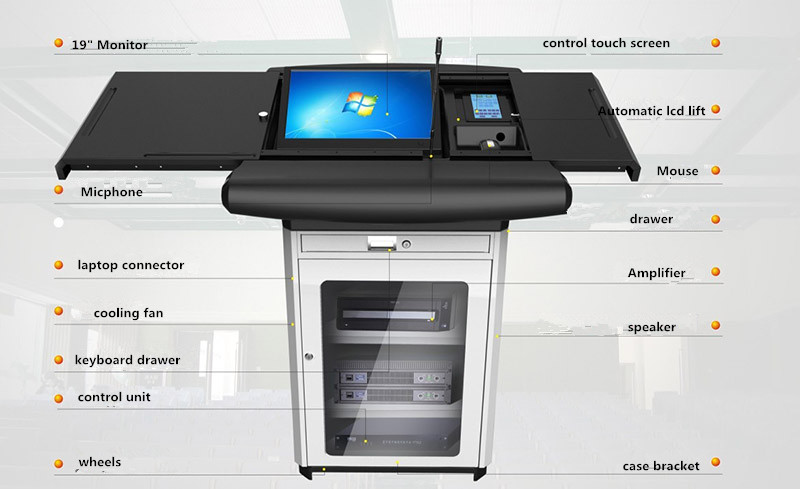 More Products