Introduction
¡¡LGT-304T
Material:Aluminium Alloy
Color:Silver/Black
Panel size:256.5*163*134.8mm
Cutting size:245.5*152mm R=12
Connector:
Left panel:RJ45*2;Universal AC*1
Right panel:3.5audio*1;video*1;VGA*1;DVI*1;USB*1;MIC;
Connector could change as request.
Advantage:
1.The panel is opened to the inclined plane and can be installed at the same time;
2.Strong and weak electric interface for the upper and lower to plug the interface, the upper and lower to plug, plug and play, easy to use, easy to install.
3.Pneumatic pop-up desktop socket, with whole cassette start and mechanical lock structure design principle, start without noise, safe and stable.
4.The aluminum alloy is used in the process of drawing aluminum alloy,High grade, beautiful,The body spray treatment,High strength,Corrosion resistance.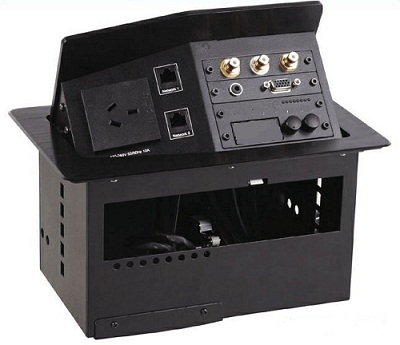 More Products